The Top SEO Trends (2021)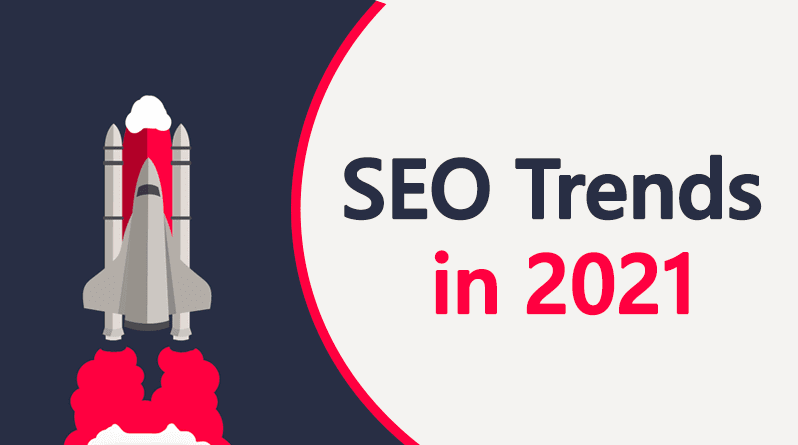 The quest for SERP ranking supremacy continues to rage among small and large businesses alike. With so much information at your disposal, it can be challenging to decide which SEO strategies best suit your business. 
That's why we're here to help. This guide contains all of the best SEO strategies from Denver SEO experts to implement in your business during 2021. Use it to please the Google gods and take over the most valued online real estate: page one of Google's search results.
User + Search Intent Continues to Reign Supreme.  
Representing search intent in your website isn't a new concept; it's one of the oldest SEO tricks there is. On a different note, however, it's not a trick at all; it's a simple method that makes sense in the broader scheme of SERP rankings: Google rewards websites that answer users' questions. 
Create content that addresses user intent, so people continue to visit your website for their questions, and Google will take notice. When you break your echo chamber and understand how to answer users' questions, you win half the battle.
Other publications will harp on links and article length. While these are fundamental aspects of creating high-performing SEO content, you should never forget the cardinal rule about content: all that matters is that users care to read it. 
Customer Analytics and Retention and Lifetime Value
In the old days, Denver SEO firms focused on driving traffic. While driving traffic is still critical, as eCommerce becomes more popular, web designers need to make their sites more tenable as a place where repeat customers feel comfortable building lifetime relationships. 
How well businesses can utilize their SEO to turn the traffic they receive into an ROI is 2021's critical SEO marketing strategy component. In 2021, it will no longer be enough to get customers in the building; they have to stay for a while and leave satisfied having bought one of your products or subscribed to one of your services. 
This trend means consumer analytics and data will be the hot ticket in SEO. Connecting UX Conversion and revenue will supplant keyword volume as the key determinate of your SEO strategy. 
Core Web Vitals and Page Experience Optimization 
As Google phases in the new Core Web Vitals as one of its chief ranking factors, organizations will have to adapt. Core Web Vitals emphasizes page experience and user experience as one of its chief ranking factors. 
In 2021, websites need impeccable load times, rendering, image optimization, mobile-friendliness, and security protocols. The content on the page will still play into rankings, but if a page doesn't load quickly or glitches when users try to interact with it, how valuable can it be? 
Resort to the golden rule when trying to account for Google's Core Web Vitals. Do unto others as you would want done unto you. You don't want to wait for uncompressed images to load, and you don't want to wait forever for a page to initiate. 
You want your questions answered, and you want them answered now. That's the whole point of the internet. If you wanted to wait to have your questions answered, you would go to the DMV. 
Core Web Vitals will favor websites with seamless off-page SEO that make for fast load times regardless of whether they load on a mobile device or laptop. 
Mobile SEO = All SEO 
The number of mobile searches conducted in the United States rose by 30 million from 2016-2020. There's no reason to believe this upward trend will reverse. As mobile capabilities continue to grow, so do user adoption rates. 
This trend means you can no longer depend on your desktop website for traffic and conversion opportunities. You can no longer view your mobile site as a supplement to your desktop website, either. As mobile searches increase, you might consider your mobile site to be the more critical component of your web presence within a few years.
More Automation 
2021 signals the continued advancement of artificial intelligence in the web space. This trend has benefits and pitfalls in the realm of content. It will make content generation easier, but it will also generate more spam. 
However, in the realm of analytics, AI will continue to establish a stranglehold. These automated methods will make content writers' and others' jobs easier. Think about the time your content team has to spend generating keywords and looking for links. With the numerous emerging automation tools, writers could implement an automated keyword generator to make their job easier so they can focus on their essential job duty; content quality. 
Systems such as the one discussed in the previous paragraph already exist. However, 2021 will continue to improve on existing technology, turning these automated tools into convenient tools that save time and productivity. 
Long-Form Content 
Remember when we said that your blogs and landing pages didn't need to be that long? Prepare yourself for some major contradictions. Five years ago, you could get away with a 1,000-word post. As Google's knowledge database continues to engorge itself on whatever information possible, your content will have to up its game as well. 
Nowadays, you should aim for blog content that is at least 3,000-words. However, if you're dealing with an extensive topic, you should try to create as much as a 5,000-word post. 
Even with the knowledge database, you still need to keep your content concise, and you shouldn't sacrifice quality for quantity. The message here is simple: if the knowledge exists, include it in your content. However, if you're writing a topic with limited information, you shouldn't drone on forever trying to hit a specific wordmark. 
Conclusion- SEO Trends in 2021 
You probably have noticed a common thread among the 2021 SEO trends. Google will favor websites that put the user's experience at the center of everything. Mobile-friendliness, Core Web Vitals, Search intent; it's all about the user. 
If your website keeps the user in mind, then Google will return the favor. Remember, Google depends on websites that add value to consumers' lives. It's up to you to deliver that value.