2020's Best Home Theater Systems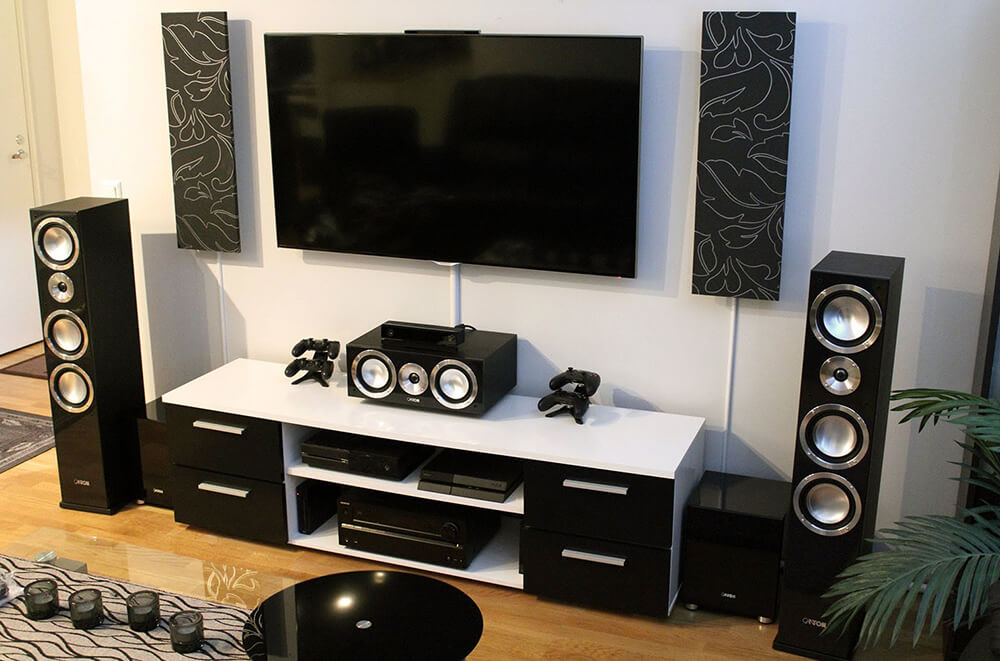 Defining the best home theater system isn't a one-size-fits-all solution. Some of you may just be looking for integrated speakers built into your television. But for those of you AV gearheads who want to feel like you're in the movie when you watch it, you need a real home theater system. 
Complete home theater systems include multiple speakers and support for surround sound formats. These formats enable you to immerse yourself in the cinema experience from the comfort of your home. As we take a look at the best home theater systems of 2020, imagine the whirlwind of sound in an action-packed flick making your home theater feel like you're in a 3-D experience. 
What Should Home Theaters Have? 
Most of the best home theater systems have subwoofers, which deepen the low-end portion of the movie sounds, bringing more oomph to explosions. Some of these systems can also include Dolby Atmos technology, which spices things up by adding overhead sounds to your experience. 
Your AV receiver is another necessary home theater component. This receiver powers and processes the sounds from your speakers. If you have multiple AV receivers, you can hook up HDMI devices for an easy pass-through to TVs. 
Buyers often have to piece components together to complete their home theater systems, but some companies bundle everything together. This bundle is known as a Home-Theater-In-A-Box (HTIB). HTIBs eliminate the need to spend valuable time searching for different audio parts that complete your home theater. However, HITBs usually feature smaller speakers that don't offer the kind of high-level performance you look for in a home theater. 
To avoid this pitfall, retailers have started equipping their HTIBs with higher-end speakers. Though this type of package doesn't necessarily qualify as an HTIB, it takes care of everything you need for a premium home theater setup.
Home theaters can also use distributed audio video, which allows you to stream audio anywhere in the house. So, if one of you wants to make popcorn in the kitchen without missing any action or pausing the show, your home theater can play the movie while you watch on your kitchen TV. 
With so many options to consider, it may be wise to consult with an audio visual automation company. These companies create custom designs that suit your home without compromising its integrity or implementing complex design schemes. 
The following list takes into account the different needs of your home theater situation. It discusses solutions based on your budget, room-size, and audio/video knowledge. 
The Cinema Connoisseur- Klipsch 11.2
If your cinema must have all the fixings, the Klipsch creates a soundscape that will blow you away. The 11.2 is meant for larger rooms, and with 13 speakers, including four designed for the ceiling, you'll feel like you're inside the movie. At about $6599, Klipsch isn't for the faint of heart. You need to be all-in to commit to the 11.2, but if you have the funds and want an unmatched cinematic experience, the Klipsch is a great choice. 
The Belle of the Medium-Sized Room- Polk Audio T-Series 
The Polk T-series is an excellent choice for a medium-sized room because it creates the feeling of being in the movie without shaking your room's foundation. With a forward-firing bass port, the T-series's subwoofer brings crisp, impactful low-end without rattling any of your vases off their stands. 
Medium-Sized Room Technology At Its Finest- Sony STR-DN-1080
At around $1798, the Sony STR-DN-1080 has everything you want, from a 7.2 surround sound to a 4K passthrough and a nifty, front-facing USB-port. WIth both bookshelf and tower speakers included, the STR boasts high-quality technology matched with versatile components that fit nicely into medium-sized rooms. 
The Best Utility Home Theater System- Onkyo HT-S7800
Coming with Dolby Atmos surround sound in a convenient HTIB package, this stereo is proof that you don't have to spend an arm and a leg to accomplish high-performance. You won't get the best performance money can buy with Onkyo's surround sound speakers, but if you're not looking to plunk out the cash for such things, the Onkyo is an excellent alternative.
With the Onkyo HT, you won't be able to access the range, depth, and power that other, more expensive speakers and subwoofers offer. Still, for those who don't want to spend thousands of dollars on such performance, the Onkyo HT-S7800 offers value that few speaker systems on this list can match.  
The Bedroom Blaster- Focal SIB Evo 5.12 
Focal is known for its high-performance speakers, and it shines through beautifully with the SIB Evo speakers. These small but exceptional speakers will turn your bedroom into a movie set with not only quality sound but a bonus of Dolby Atmos. 
Inconspicuous and providing tremendous value for its price, Focal hit the nail on the head with this system. Equipped with Audyssey, a state-of-the-art equalization system, and Heos, an onboard music streaming system, you won't regret this system for your bedroom home theater needs. 
Highest Value Combination Stereo System- Paradigm Speakers, Martin Logan Dynamo 600X Subwoofer, Marantz SR5014 Receiver 
In the home theater game, spending tens of thousands of dollars on a particular room isn't uncommon. That's why this Paradigm system's pairing of high-performance technology for $3000 is so impressive. 
As the premier Canadian speaker company, Paradigm creates excellent value products that can fit into any luxurious home theater. By blending science and blind tests, Paradigm uses data-driven techniques to fulfill its customer base's needs. This system combines their large tower speakers with a booming Martin Logan subwoofer and a clean Marantz SR5014 receiver. 
This pairing utilizes some diverse EQ settings, and the Marantz receiver helps with the subwoofer's response. The Marantz also gives more room for expansion because of its clean power. With an on-screen menu that directs you efficiently through Dolby Atmos's receiver room EQ, this pairing is one of the best you can find. 
Conclusion- Start Your Home Theater Project Today
With so many speakers, subwoofers, and receivers to choose from, it can be overwhelming deciding on the components for your home theater. Audiovisual companies can help you research and compare the different solutions at your disposal. When choosing which home theater works best for you, consider your budget, room-size, and technology needs.